Explore Egypt with Fellow Women Founders
A business retreat, travel experience, networking event,
and social impact opportunity all-in-one.
We are thrilled to offer an exclusive invite-only 8-day, 7-night Egyptian excursion for women founders from around the world. Join us on this multi-city adventure and soar over the temples of Luxor, sail on the ancient Nile in Aswan, and stand at the feet of the Sphinx and the Great Pyramids at Giza.
For our Global Founder's Retreat Egypt, we are including an impact opportunity for us all to invest in global women founders through our Local Women Founders Pitch Day on March 8th, International Women's Day!
The 10% impact give back included with your fee will go directly towards prize money for the winning businesses (selected by us!). Your participation automatically means you are giving back to women-owned businesses in Egypt, and additionally, providing a wage to youth without parental care in Egypt who will be organizing and working the day's pitching event.
This is an experience not to be missed! We have 20 spots max for this trip and anticipate selling out quickly. Payment plans and an Early Bird discount are offered to help offset your upfront costs.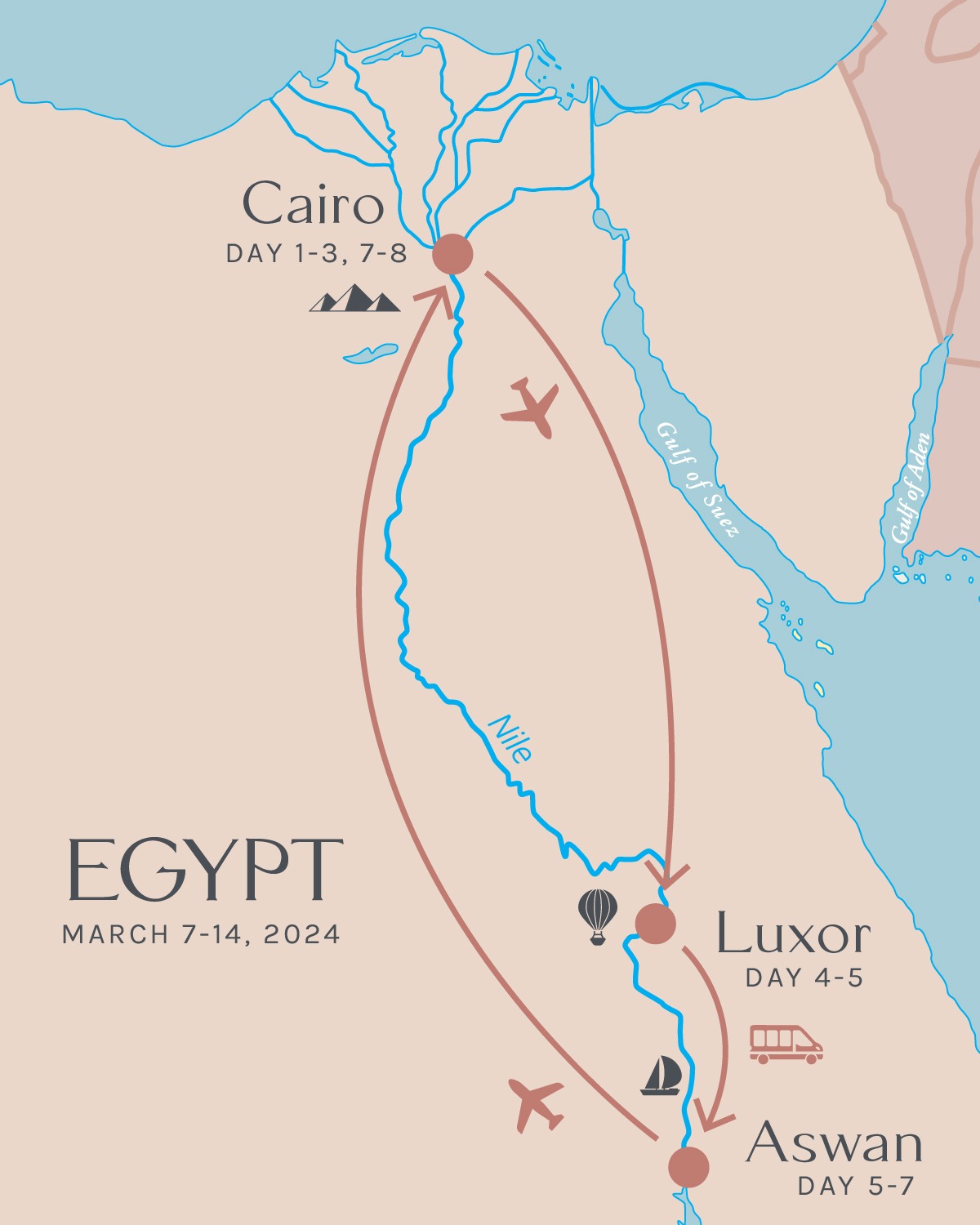 DAY 1 March 7th Arrival to Cairo
National Museum of Egyptian Civilizations, Welcome Dinner
DAY 2 March 8th Cairo
Local Women Founders Pitch Day, Islamic Cairo
DAY 3 March 9th Cairo
Morning founder workshops, then Heliopolis and Khan Al Khalili Grand Bazaar
DAY 4 March 10th Cairo to Luxor
Hatshepsut Temple, Valley of the Kings and Queens
DAY 5 March 11th Luxor to Aswan
Hot Air Balloon Ride, Karnak Temple, Luxor Temple, move to Aswan to explore old Nubian Village and local market, sunset Gala Dinner
DAY 6 March 12th Aswan
Morning founder workshops, then a Felucca Boat Ride on the Nile, Aswan Botanical Gardens, Elephantine Island, and the Philae Temple
DAY 7 March 13th Back to Cairo
Giza Pyramids, Egyptian Museum and Citadel of Salah El Din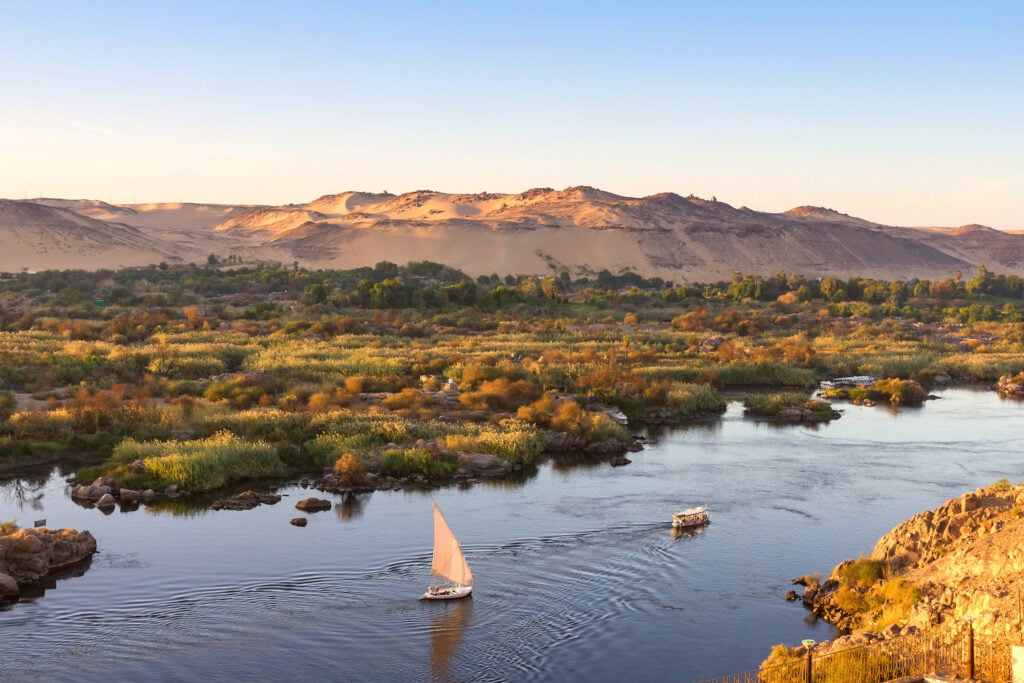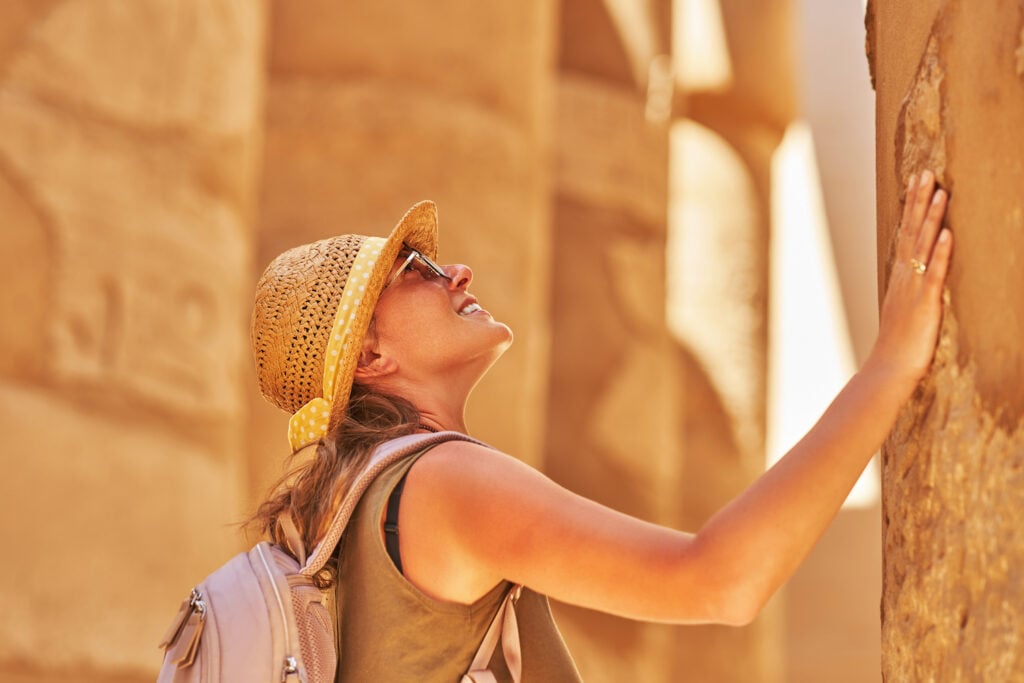 What Makes the Global Founder's Retreat Extra Special
This isn't just any off-the-rack trip. You won't find another business #travelwithimpact retreat for women founders quite like this.
CURATED GROUP OF WOMEN FOUNDERS
Not just anyone can sign up. Each retreat is invite-only. You'll be traveling with, dining with, exploring with, and supporting fellow women founders from around the world. The bonds made here are lifelong and continue beyond the trip.

FOUNDER WORKSHOPS
Our itinerary includes both big picture and operational tactical workshops for founder development, deep discussion, and learning. You'll come away inspired with an action plan to implement for your business once you get back home to generate revenue and plant seeds for your legacy.

IMPACT
10% of retreat fees are always donated. For this retreat, the 10% give back will go towards prizes for the Local Women Founders Pitch Day in partnership with The State of Women Institute, as well as to youths without parental care who will be organizing and working the day. With your participation, you are both investing in global women founders and empowering local youth orphans and refugees.
LOCAL EGYPTIAN GUIDE
We will be in the trusted hands of our implementing partner, Cairo local That Girl From Egypt Rana Shaaban who will be with us on the entire trip to communicate with vendors, arrange transportation, and answer questions along the way. She's curated an incredible itinerary for us according to what she loves about her home country.
BUSINESS WRITE OFF
Being a business retreat for women founders, your retreat participation fee, airfare and travel costs could be claimed as a business expense. (Please check with your accountant or tax professional for your specific business benefit.)
PAYMENT PLANS
We offer payment plans to help offset the costs of the trip, as well as an Early Bird discount if you book before September 14, 2023. Payment plans will be adjusted according to the number of days before the trip. Please read the Cancellation Policy here.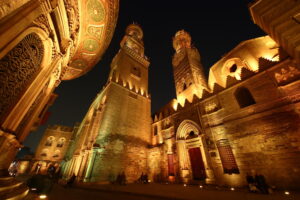 Cairo's history dates back to the dawn of human civilization and is one of the largest cities in Africa. We will start our adventure in the "City of a Thousand Minarets" before venturing down the Nile to Luxor and Aswan.
Arrival in Cairo

Check-in


(Optional) National Museum of Egyptian Civilizations

Welcome Reception & Dinner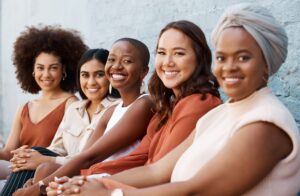 International Women's Day - Local Founder Pitch Opportunity Day
After breakfast, pre-selected women founders from Egypt will be presenting their businesses to us for an opportunity to win funds. We will also be engaging in mentoring these founders from our collective pool of knowledge to benefit us all.
Afternoon trip to Islamic & Coptic Cairo 
If you are an architecture lover, you will fall in love with how mosques and churches were built, and the art within.
Religious complex. 

Ibn Tolon Mosque 

Gayer-Anderson Museum 

Sultan Hassan Mosque 

Refa'y Mosque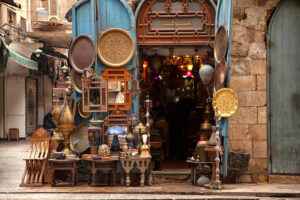 Morning workshops
We'll start the day while our minds are fresh with founder development workshops to move our businesses forward. Topics can include branding and marketing, finance and compliance, leadership training, and big picture topics such as purpose and legacy.
Heliopolis and Khan Al Khalili 
Then we will explore the neighborhood of Heliopolis, the neighborhood where it was built around Baron Empain Palace. In the palace, you will get to see the beauty and the merging of French, Indian and Belgium architecture. 
Afterward, we will head to:
Khan El Khalili Bazaar 

Moez Street (the greatest concentration of medieval architectural treasures in the Islamic world) 

El Hakam Mosque 

Souvenir shopping at a sustainable local shop that supports fair trade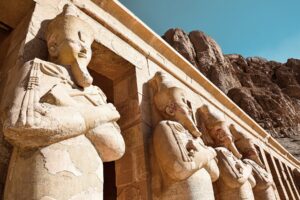 Flight to Luxor and West Bank 
Arriving at 8:00 am, have breakfast, check-in and then head to discover the Great Civilization of ancient Egypt with a visit to the west bank of Luxor: 
Hatshepsut Temple 

Valley of the Kings 

Colossi of Memnon 
We'll stay overnight in Luxor.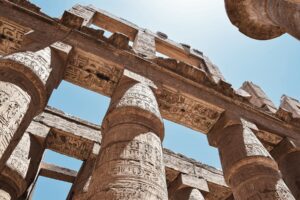 Luxor's East Bank & Moving to Aswan 
At dawn, we will head out for the hot air balloon ride, and afterward, we will explore the two massive temples on the East side: 
Karnak Temple 

Luxor Temple 
Then we'll move to Nubia in Aswan, an ancient city known as the land of Gold. Nubians are known for their colorful houses, henna lovers and dancing people! We will visit the local market where you can buy different spices, hibiscus, and their famous peanuts. We'll end the night with a Nile Sunset Gala Dinner and an overnight stay along the Nile.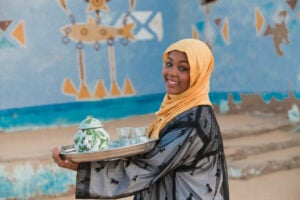 Morning workshops & Felucca boat ride on the Nile
We'll start the day with a second set of workshops, then head off to sail on a traditional boat (Felucca) that will pass by the picturesque islands around Aswan. 
Elephantine Island 

Tombs of Nobles (hiking) 

Aswan Botanical Gardens 

Nubian Museum 

Nubian Village (walking from hotel) 
We'll stay the night in Aswan before an early flight back to Cairo.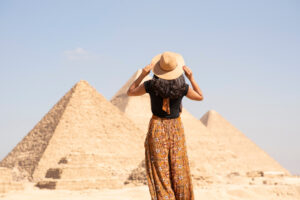 Back to Cairo & The Pyramids at Giza
Upon arrival, we will check-in to the hotel, have lunch and then dive into Old Cairo. We will go back in time to visit:
The Great Pyramids and Sphinx

The Citadel, built by Salah Eldin on the highest point in Cairo

The National Museum to see some of the great mummies in their finest forms

Al-Azhar Park (the green lung of Cairo)
After breakfast, we will say our goodbyes… for now! 
Join a live Q&A session with us!
Wednesday, September 6, 2023
10am (Pacific) / 1pm (East Coast) / 7pm (Central Europe)
Get your questions answered by our founder Erika Brechtel joined by our local Egyptian guide That Girl From Egypt Rana Shaaban on the ground in Cairo.
Please Read: Important Information for Your Trip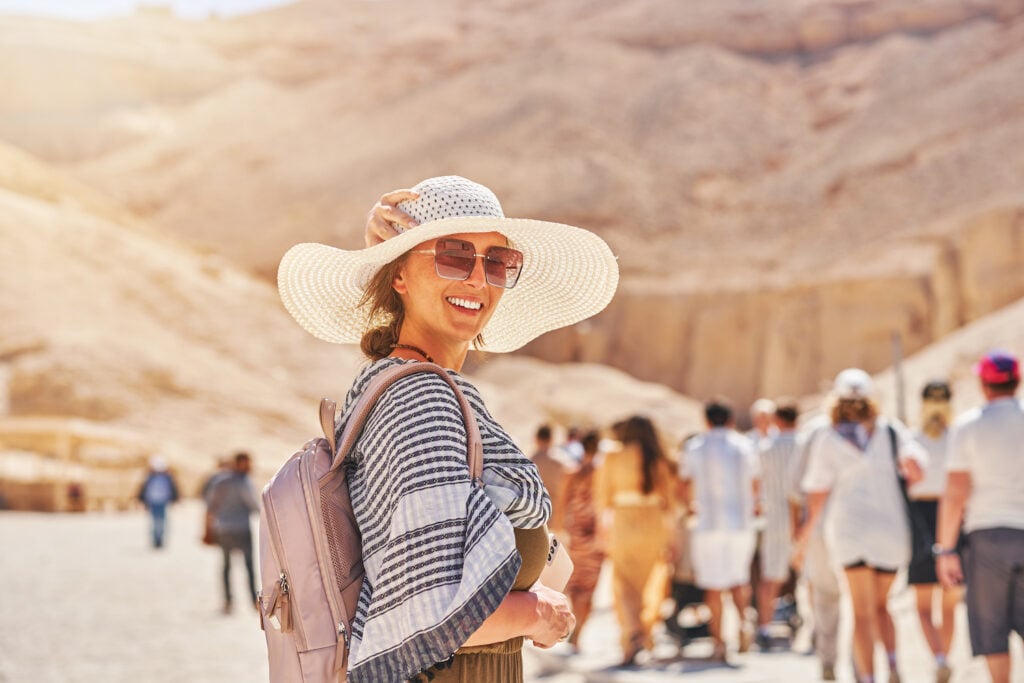 Invitations are sent via email to our Élanoura Collective members only. If you are already a member, please check your email (and spam) for a link to the sign up page. If you are not a member, you can join for free, here.
Yes. The Collective is free to join! This ensures a curated group is selected for every retreat. Once approved, you'll receive an invitation to sign up for the retreat. Fill out our quick intake form here.
Women founders, solopreneurs, side hustlers, and founders-to-be are all welcome to join.
Fly in and out of Cairo International Airport (CAI)
We recommend arriving by 11am to settle in and enjoy some time in Cairo before our welcome reception at 6:30pm and dinner. We will lead an optional excursion to the National Museum of Egyptian Civilizations for those who arrive early and wish to get started with their adventure.
There are no activities planned for the last day, so you may leave any time you wish after breakfast. The airport is approximately 10 minutes away from the hotel where we will be staying for our last night. 
Airport transfers on arrival day March 7th and departure day March 14th for departure are included in the program and cost. 

If you arrive earlier or you would like to leave later, the trip leader can gladly arrange a private transfer for you with additional cost. 

Arrival transfers are private and will be in groups depending on flight times. Sometimes this means waiting in the airport for a short while until other flights have arrived. (There is a Starbucks right by the arrival gate to enjoy coffee and snacks while waiting.) 
The luggage allowance for internal flights is 23kg plus a carry-on bag weighing up to 7kg.
Most visitors will require a visa to enter Egypt, including those from the USA, UK, Australia, New, Zealand, Canada and the EU. Please check with your local embassy to find out what the requirements are for your nationality.
Single entry visas cost USD 25 (whether you buy them on arrival or online) and are valid for 30 days of travel within Egypt. Passports must be valid for at least six months after your arrival date.
Visa on arrival
For most nationalities, the easiest way to get a visa is on arrival at Cairo International Airport.
Purchase the visa at an approved bank kiosk within the arrivals hall before proceeding to the immigration counters. Visas can be purchased in US dollars, British pounds or euros, and only in cash.

You will be given a stamp that you then need to put into your passport yourself.

Proceed to the immigration counters where you need to present your stamped passport, plus a print-out of your travel itinerary, including accommodation and tour bookings.
E-visa
You can also apply online for a visa through the official Egypt e-visa portal www.visa2egypt.gov.eg (beware of other websites falsely claiming to provide this service, often at twice the price). 30-day tourist visas are valid for three months from the date of issue. You must create an application at least seven days before your arrival.
Follow the prompts to sign up, sign in, apply, and pay online. Payments can be made using a credit or debit card in US dollars or euros only.

After your visa application has been processed, you will receive an email updating you on the status of your application.

If successful, you will be emailed a link to download and print your e-visa.

On arrival in Egypt, you must present a printout of your e-visa, along with your passport and a print-out of your travel itinerary, including accommodation and tour bookings.
Entry requirements can change at any time, so it's important that you check for the latest information.
As of August 2023, "Passengers traveling to Egypt are not required to take a COVID-19 test to fly to Egypt. Egypt's COVID-19 entry restrictions were lifted on June 17, 2022. Previously, travelers who did not have a valid vaccination certificate needed to take a COVID-19 PCR or antigen test before flying." Those who have a vaccination card may want to bring it, just in case. Please note, as the COVID situation is fluid, these requirements may change.
It's rare, but please be aware that the itinerary, activities, and hotels are subject to change due to circumstances beyond our control. We will notify you as soon as possible and be with you every step of the way to provide a smooth experience.
Anything not listed such as international airfare in/out of Cairo, alcoholic beverages, your souvenir shopping, and two dinners we will have out in town together to explore the city.
The celebration of Ramadan will begin on March 10, 2024. Tourist sites will remain open, but some shops and restaurants may be closed. 
All of our Global Founder's Retreats are invite-only, and all guests are Élanoura Collective approved members. 
If you know a guest with whom you'd like to share your double occupancy room, you may provide her name at checkout.
If you know a woman founder whom you would like to refer, you may receive a $150 refund once your referred guest has been approved and her trip paid in full. (Limit 2 per guest.) To receive the refund, have her input your name in the "Referred by" field at checkout. 
If you are traveling alone and do not have a guest to pair with or refer, not to worry: you will be thoughtfully paired with a fellow woman founder from the Élanoura Collective to enhance your experience. It's an opportunity to stretch out of your bubble, expand your network, and engage with a like-minded and like-hearted woman founder from around the world. (Suitemates from past retreats have become fast friends and collaborators, to this day!)
We understand that life happens. But we do have a Cancellation Policy in place to ensure that those off the waitlist are given ample time to book their arrangements, and in order to fulfill the commitments to vendors on your behalf. Please read the Cancellation Policy before booking.