For women founders to explore, expand, connect, give back and return back to their businesses refreshed & renewed.
The Global Founder's Retreat is a #travelwithimpact business retreat for women founders that includes a volunteer opportunity. Our next adventure is set for February 25-March 3, 2023 to Marrakech, Morocco.
Join us now to get on the list for all of our upcoming adventures to future destinations Spain, Jordan, Egypt, Hawaii, South Africa, and more.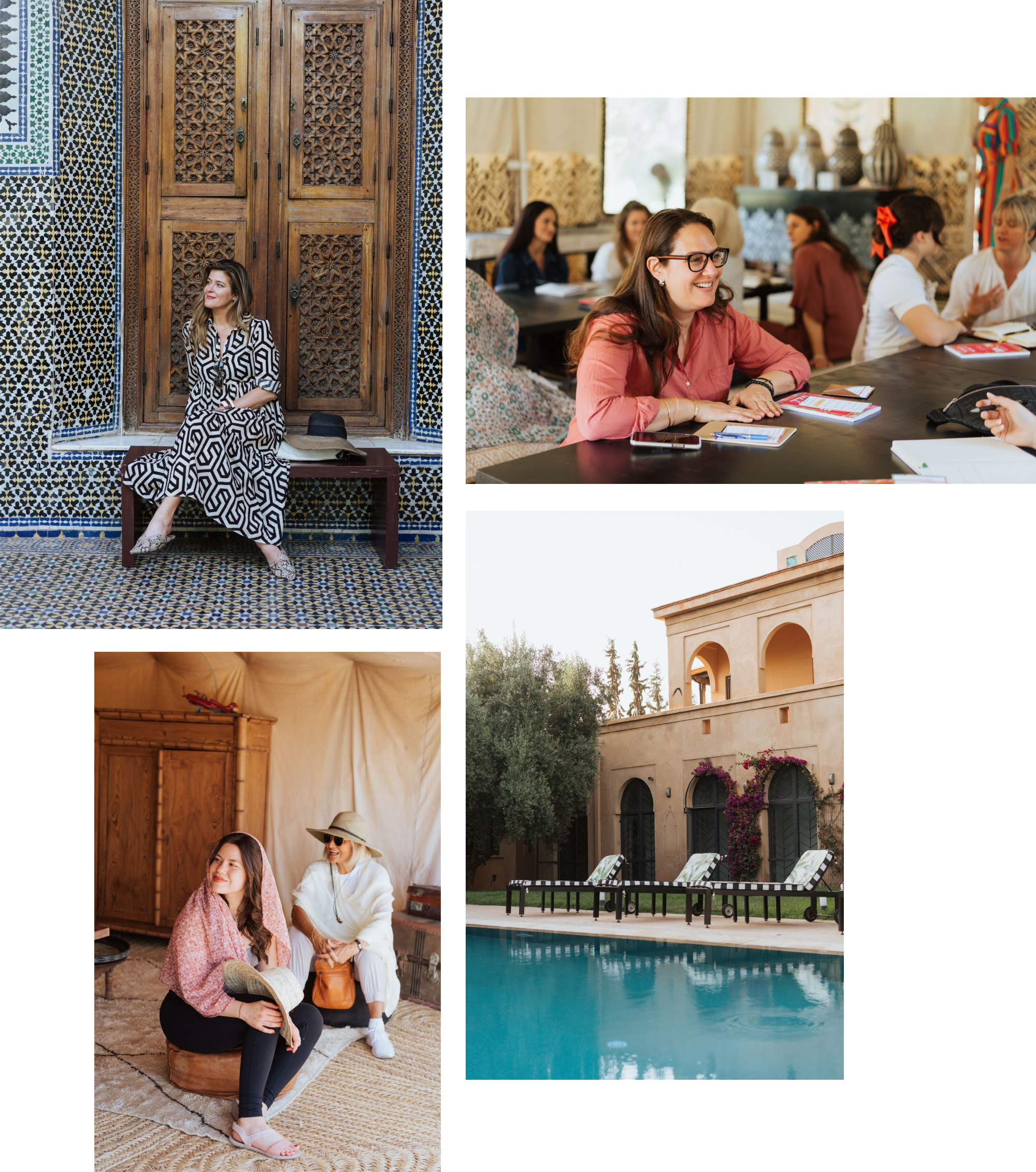 Watch: Global Founder's Retreat Morocco 2022
Our kickoff Global Founder's Retreat Morocco 2022 brought together a highly curated group of women founders of all ages and from various industries to Peacock Pavilions and non-profit Project Soar, and included professional development workshops, cultural outings, social connection, R&R and a healthy dose of fun.
"My mind is blown as I try to absorb every piece of valuable experience I got in such a short time. It doesn't matter what stage of business you are in, every woman leader needs a space like this."
- Bri D.
"Ready to get back to my business with a renewed energy!"
- Chelsea M.
"It made me feel like our world is actually closer than we think and we, as humans, really want to connect. To be seen, to be heard. My heart is full."
- Emily M.
"It was a life changer for all of us."
"The Global Founder's Retreat provides an introduction to the purpose, connection, and impact that has been missing for so many women founders leading to burnout and a misuse of time, energy, and power. By giving women a real-world experience that jolts them out of their day-to-day grind and comfort zones, they are given the opportunity to think bigger about what they really want to do and leave behind, how they want to move forward in their lives and businesses, and come back home refreshed with a renewed sense of purpose and drive."
- Erika Brechtel, Founder, Élanoura
Retreat activities include:
Volunteer activity at local non-profit
Workshops led by professional speakers
Guided sightseeing & shopping tours
Museums and cultural outings
Day trip to desert camp
Morning workout group sessions
Fine dining & local food experiences
Hamman spa treatments
10% of all participation fees are donated to non-profit partner
Every Élanoura retreat includes a volunteer + donation opportunity. At the Global Founder's Retreat Morocco 2022, we spent a morning leading an activity with College Moxie and connecting with the local young women of Project Soar, inspiring each other despite language barriers. Additionally, in order to provide enduring impact long after we returned home, we made a collective donation that will provide a menstrual solution to keep 255 girls in school for three years helping to end period poverty and child marriage.
Be a part of our next transformative experience, February 25-March 3, 2023.